Vietnam e-visa is a simple way to get a valid visa for Vietnam, available for citizens of all countries and territories (80 countries before Agust 15, 2023 only(, entering Vietnam through one of 41 ports of entry which are called Vietnam evisa entry points.
Application for and delivery of the e-visa for Vietnam is completely done online. This article about Vietnam eVisa instructions will explain everything that travelers should know about this type of visa for Vietnam before applying for it.
What is a Vietnam e-Visa?
Vietnam electronic visa (e-visa) is one of 02 ways of getting a visa issued by the Vietnam Immigration Department. The e-visa is now good for up to 90 days, single or multiple countries.
When it was initially launched in February 2017, it was available for citizens of 46 countries only. As of February 2019, after 2 years of launching, Vietnam e-visa is available for nationals of 80 countries. Greatly, it is now available for citizens of all countries and territories.
Is Vietnam eVisa legit?
Yes, it is. It is issued by the Vietnam Immigration Department to foreigners. Once you get it, you will enter Vietnam without a problem unless you make any serious trouble at the entry port.
As such, the answer will absolutely be "YES" to the question "Is Vietnam e-visa safe?" or "Is Vietnam e-visa reliable?".
What does a Vietnam e-visa look like?
The e-visa to Vietnam is in the form of a loose-leaf visa, issued in PDF format. It is equivalent to a visa and there will be no stamp or label placed on the visa holder's passport.
The new Vietnam eVisa template is a little bit different from the old one (before August 1, 2023). It does not show the port of entry anymore. It shows the following details:
Visa Number
Visa code
Holder's personal details, including full name, date of birth, gender, nationality, passport number, passport's expiry date
Travel dates (visa validity)
Purpose of entry
Inviting/ guaranteeing agency/ organization and its address, phone number (if any)
Unique QR code which shows some details about the evisa holder, including Passport number and nationality.
Here is a Vietnam e-visa sample: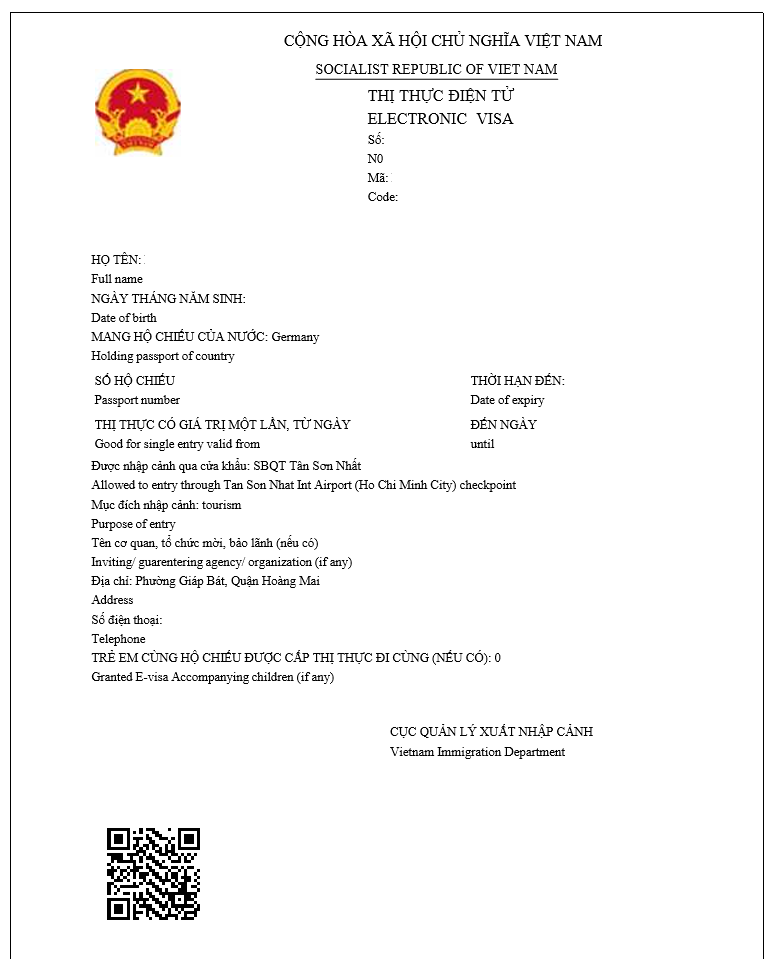 P/S: Please note that the Vietnam evisa will have no signature and red stamp of the Vietnam Immigration Department as it is issued electronically.
Vietnam e-visa requirements
Before starting your e-visa application, make sure that you have:
A passport with six (6) months' validity
A photo in .jpg format of your full passport data page
A passport photo in .jpg format (4×6, white background, without glasses)
A valid international credit or debit card
An email address for support purposes
A temporary address in Vietnam
Your entry and exit dates and entry and exit points/airports
Check for more detailshere
How to apply for Vietnam e-visa
It's very simple to get an e-visa to Vietnam in 3 steps as follows:
Complete a secure online form;
Make payment of e-visa cost
Get visa letter in pdf format, download and print
How does Vietnam e-visa work?
This section will explain to you how to use the Vietnam e-visa after you get it in PDF format.
First of all, you need to download your e-visa and then print it out;
Bring the Vietnam e-visa print together with your passport to Vietnam;
Upon arrival in Vietnam, show your passport and your printed e-visa at the immigration counter and complete the immigration procedure.
That's all about the Vietnam e-visa procedure and now, congratulations, you are officially entering Vietnam with e-visa.
How long is Vietnam e-visa valid for?
In terms of validity period, Vietnam e-visa is valid for up to 90 consecutive days from the date you provided in your booking, not the date you submit your application form or the date you actually enter Vietnam.
An e-visa for Vietnam is also valid for single entry or multiple entries, which can be understood as follows:
Vietnam evisa single entry: allows the holder to enter Vietnam once during the visa validity. When he/she leaves Vietnam and wants to company, and a new evisa must be applied for.
Vietnam evisa multiple entries: allows the holder to enter and exit Vietnam during the evisa validity as many times as he/she wants.
Vietnam visa tips
Here are some pieces of advice for you if you are entering Vietnam with an e-visa:
Your port of entry provided in your application should be exact. You will not be allowed to enter Vietnam in any entry port other than the one stated on your e-visa.
You should keep your e-visa print until the end of your Vietnam trip as you will need to show upon departure from Vietnam.
Frequently Asked Questions
View more